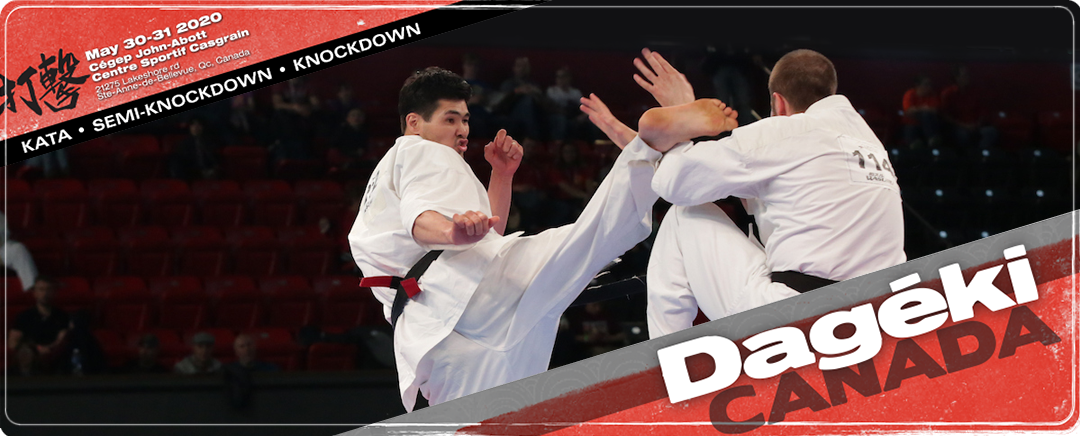 *** IMPORTANT MESSAGE ***
THE DAGÉKI 2020 IS POSTPONED TO 2021
Monday, March 16, 2020
Osu!
It is with regret that we are postponing the :
Dagéki World Karate Championship 2020
scheduled for Saturday and Sunday, May 30 and 31, 2020,
at Casgrain Sport Center of John Abbott College,
in Sainte-Anne-de-Bellevue, QC, Canada
Given the current world health crisis due to the propagation of the Coronavirus (COVID-19) and in conformity with recent directives from the governments of Québec and Canada, we have decided to postpone this international event until next year.
We are acting now to save costly procedures (which will most likely prove to be pointless or even impossible) to international competitors who are planning to attend the Championship: visa application, purchase of insurance policy, airplane tickets, hotel reservations, etc.
We are sorry to have reached this decision, but we want to emphasize that it is only a postponement. We are indeed planning to hold the Dageki World Karate Championship 2021. We will be in touch!
We thank you for your interest in the Dagéki 2020!
Osu!
The Organizing Committee of the  Dagéki World Contact Karate Championship 2020
Shihan Fouad El Harrif, Shihan Denis Cordeiro, Shihan Sylvie Comeau and Shihan John Kalaidopoulos
The Dagéki 2020 is postponed to 2021